Give your wedding a breath of fresh air with a modern and fresh take on acoustic music for weddings plus a little traditional. I'm confident you and your guests are going to love it!
Want a little peek of some of my music? 
In case you missed it, check out this video for a sample!
Wedding Packages
Ceremonies & Cocktail Hours
Booked as a solo act. Duo is available upon request.
Travel fee is applied if 30 miles outside of Louisville, KY

Ceremony  
Starts at $550
20 minutes of guest seating music instrumental or with vocals. 
As many songs as you would like!* (Limited to 5 that are not already on my song list, which can be found here.)
Complimentary consultation
Song suggestion guides
---
Cocktail Hour 
Starts at $550
Keep your guests entertained and set the mood while they enjoy hors d'oeuvres with some upbeat acoustic pop music on guitar and/or piano. 
Up to 1.5 hour of music
Singing plus Piano and/or guitar
Sound system
As many song requests as your would like!* (Limited to 5 that are not already on my song list)
Option to make it all-requests for guests
---
Ceremony and Cocktail Hour 
Starts at $800
The most popular pick for solo performances. It is everything that is included in the 'Ceremony'  and  'Cocktail Hour' packages at a great value!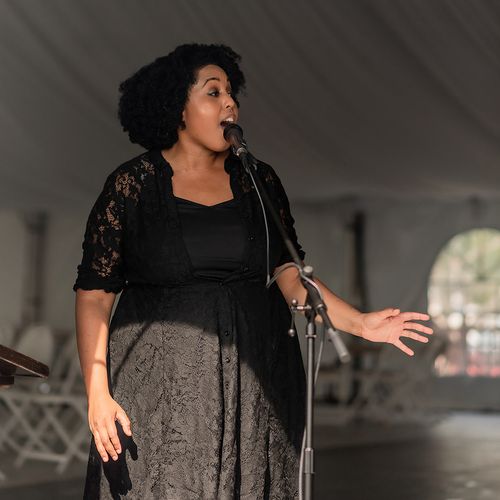 Receptions and Full Weddings 
Travel fee is applied if 30 miles outside of Louisville
Reception
Ranges from $800-1550 
Maybe you like "chill," but still want to dance if the mood strikes! I'm be your #1 hypewoman!
You will get: 
• Three 45-minute sets of music. 
• Me as an Emcee to dismiss tables
• Lights for the dance floor and performance area
---
Full Wedding
Ranges from $1200-2,400 
All-day!  Full Wedding includes a ceremony, cocktail hour, and reception.
However, for small, intimate weddings have different needs for music. So click the links below for availability and a custom quote! 
Ready to make this happen?
Ready to make this happen?
Ready to make this happen?
FAQs
Can we see your song list? 
Absolutely! Here it is (click here)!  
Can  we only choose from this list or do you take special requests?  
Yes I do! As a matter-of-fact, you can  even make a reception entirely request-based! Once booked, we'll work together to tailor the music to your liking! 
I just ask no more than 5 songs for ceremonies. (I once had 15 to learn!) 
Do you bring your own sound? 
Yes I do! for up to 250 people
Can you bring a sound system for the officiant? 
It's possible! Depending on the venue/setup, there may be an additional charge.

How far do you travel? 
I'm open to new adventures! In general, most performances are in Kentucky, Indiana, and Ohio. However,  have gone much further including West Virginia, Illinois, Michigan, and Tennessee, just to name a few! 
Travel fees vary by distance and event details (for example, hotel or extra personnel for setup)
How many weddings have you done? 
 Oh my. I started doing weddings before going full-time as a musician 2013. I have lost count. At least 100+ then with the wedding band I sit in with, even more.  I just never caught any on photo or video. I had to keep each one a secret because of where I was working at the time (I can explain on a call). 
Can I get a sample of a requested song?
Sure! Just give me some time to get it to you because I have two little kids. 
 What instruments do you play?
Piano, guitar, bass, ukulele, and drums. I typically bring piano, guitar, and a loop pedal to solo shows. 
How long have you been performing?
My first paid gig was in 2005. I got $50 and thought I was a baller. Then I started performing around the region in 2007. I went full-time in 2013. 
Here's what others had to say