Give your wedding a breath of fresh air with a modern and fresh take on acoustic music for weddings plus a little traditional. I'm confident you and your guests are going to love it!
Want a little peek of some of my music? 
In case you missed it, check out this video for a sample!
Wedding Packages
Ceremony 
20 minutes of guest seating music instrumental or with vocals 
As many songs as you would like!* 
(Limited to 5 that are not already on my song list, which can be found here.) 
Complimentary consultation 
Cocktail Hour 
Up to 1.5 hour of music 
Singing plus Piano and/or guitar 
Sound system for up to 250 people 
As many song requests as your would like!* (Limited to 5 that are not already on my song list) 
Option to make it all-requests for guests
The most popular pick for by far! It is everything that is included in the 'Ceremony'  and  'Cocktail Hour' packages at a great value!
Intimate weddings are typically smaller, casual, and have a different flow than a traditional wedding. That means also needs different needs for music. 
So hop on a call or use the link below to get a custom quote!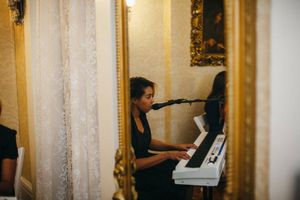 Here's what others had to say